Les 1000 vaCChes / 1000 CC (moyen métrage / middle length film)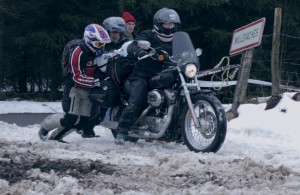 Genre Genre
Documentaire Documentary
Durée Duration
37′
Année Year
2014
Production Production
Les Enragés en coproduction avec télim TV
Réalisateur Director
Fabrice Marquat
Résumé Synopsis
Sur le plateau de Millevaches, c'est déjà l'hiver. Venus de toute l'Europe, trois mille motards se retrouvent le temps d'un week-end à la belle étoile. Ils perpétuent la traditionnelle concentration hivernale des Millevaches, où s'échange – depuis 1969 – une certaine conception de la vie plutôt libertaire, sans mercantilisme, et bien éloignée des clichés sur le monde des motards
On Millevaches Plateau, it's already winter. From all over Europe, three thousand bikers meet up for a weekend under the stars. And maintain the traditional overwintering Millevaches, where exchange – since 1969 – a certain conception of libertarian rather life without commercialism, and far removed from the clichés about the world of bikers.
Les 1000 CC sur/on Vimeo

Extrait 
Fabrice Marquat, « Les 1000 vaCChes », 2014 from AVEC Limousin on Vimeo.
Equipe Crew
Réalisateur & scénariste : Fabrice Marquat
Director & screenwriter 
d'après une idée originale de Pierre Vinour
Based on an original story by
Musique originale : Frédéric Dutertre
Original music 
Chef opérateur : Javier Ruiz Gomez
D.o.p.
Prises de vues aériennes & Chef électricien : Thierry Salagnac
Aerial shoots & Electricity
Seconde caméra : Pierre Vinour
2nd camera
Chef monteur : Emmanuel Jambu
Editor
Ingénieur du son : Richard Escola
Sound engineer 
Mixage & montage son : Côme Jalibert
Sound mixer
Directrice de production : Isabelle Harnist
Production manager 
Producteurs délégués : Aurélie Bordier & Pierre Vinour
Line producers
Financements Financing
Région Limousin, télim  TV, Cnc (Cosip)
Procirep-Angoa, TousCoProd
Diffusion Diffusion
Sur la chaîne télim (TNT, LiveBox…)
samedi 21/03 à 16h

dimanche 22/03 à 13h45

lundi 23/03 à 16h

mardi 24/03 à 21h

mercredi 25/03 à 10h

jeudi 26/03 à 11h15

vendredi  27/03 à 13h45
DVD en vente sur MotoMagazine
Festivals & récompenses Festivals & awards
Revue de presse Press review
Télécharger le dossier de presse Download